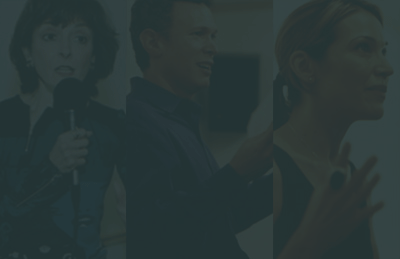 "I call them '9-to-5ers with a dream.'"
So says Helen Baldassare about the typical students of her renowned Cabaret Performance Workshop.
"They're people who have made choices in their lives; people who have professions and careers. They're people who love the arts in some way—who love music, who love to sing—but rather than choose this as a way to make a living and spend the rest of their lives, they've chosen other real careers."
Now, they're ready to learn more about singing. And since 1992, scores of singers, both aspiring and seasoned, have joined the Cabaret Performance Workshop. Here they've benefited from the experience and wisdom of Helen Baldassare, a highly respected New York cabaret performer, director and private coach.
The Helen Baldassare Cabaret Performance Workshop, as featured in The New York Times and on the NBC Today show, is an exciting, stimulating and nurturing environment where the aforementioned "Nine-to-Fivers"—and many other singers of varying age, background and experience—come together to learn more about the art of singing a song in an intimate cabaret setting.
With never more than 8 students per class, those enrolled in the various Cabaret Performance Workshop classes learn these fundamentals:
stage presence
connecting with an audience
microphone technique
choosing appropriate musical material
lyric interpretation
refining phrasing
overcoming stage fright
communicating effectively with accompanists
Here, students learn by doing, by watching, by listening, as Ms. Baldassare shares her skill and experience with each individual and with the class as a whole.
The accompanists working with Ms. Baldassare are equally qualified and can play in any key, transpose on-the-spot and quickly and carefully determine each student's appropriate vocal range.
Students in the Helen Baldassare Cabaret Performance Workshop all share a common characteristic. In varying forms, each of them has said, "I love to sing!"—in high school, college or church choirs, in community theatre, in the shower! But there the similarity ends. Students have ranged in age from 18 to 70, with musical tastes covering a similarly wide spectrum.
For those who have never performed publicly or have never ventured into the intimate cabaret environment, the question may be, "Can I do it?" With Helen Baldassare, the answer is "Yes, you can" followed by, "And you'll have fun!"
In her Cabaret Performance Workshop, Helen Baldassare has created a relaxed, supportive and safe environment, where taking chances is the norm and where making mistakes is honored. Students come to the Workshop hoping to learn more about cabaret; at the end of their study, they realize they've learned even more—they've found a new form of self-expression, tapped into their creativity and discovered new self-confidence. And these are lessons each will take and use far beyond the walls of the Workshop or the stage of the cabaret.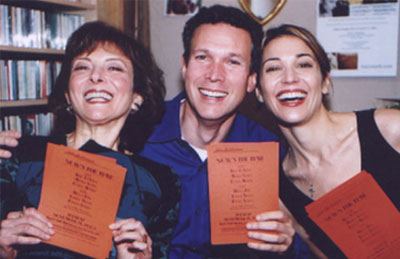 Photos on this page by Scott Schedivy