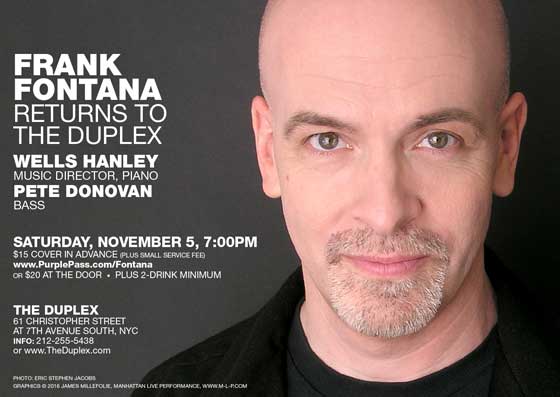 Frank Fontana is returning to New York this fall, and will be performing at The Duplex with long-time music director Wells Hanley. The pair will be joined by Pete Donovan on bass. This is Frank's first appearance in NYC since 2008, and we expect the room to fill quickly!
Click here for information on how to buy tickets in advance or make your reservations.
Previous Engagements: 2008
Classics in Jazz
Frank Fontana joins a cast of jazz singers, cabaret performers and Broadway actors, singing music by Alexander McCabe and lyrics by Aeschylus to Angelou (with a bit of Shakespeare, Shaw, and many more thrown into the mix). It promises to be a swinging, eclectic evening, and it's all to support the wonderful New York Classical Theatre (
http://www.NewYorkClassical.org
).
Classics in Jazz
Monday, September 22, 2008, 7:00 p.m.
at Prohibition Bar/Restaurant
503 Columbus Avenue (btw. 84th and 85th Streets)
Tickets: $35.00-$50.00 (includes entertainment, food and open bar)
Reservations: (212) 662-0760
Classics in Jazz
Save the date!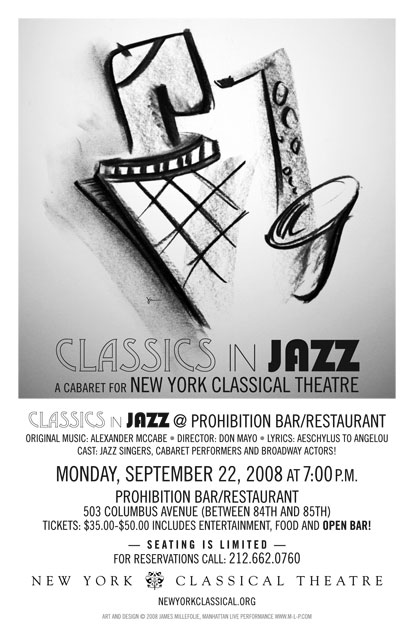 Previous Engagements: 2006
Frank Fontana at Iridium Jazz Club
Wells Hanley , Music Director, piano
Eivind Opsvik, bass
Tuesday, October 10, 2006
7:00 p.m.
$15 cover / $15 food and drink minimum.

Iridium
1650 Broadway @ 51st Street
New York City
For reservations: (212) 582-2121
www.iridiumjazzclub.com
Frank Fontana with Barry Levitt
and The Barry Levitt Quartet
Jazz Workshop & Brunch at Iridium
Barry Levitt , Music Director, piano
Cameron Brown, bass
Billy Mitts, drums
David Schnitter, sax
Sunday, February 19, 2006
11:00 a.m. - 3 :00 p.m
$21.95 (plus tax) per person includes brunch buffet, complimentary cocktail.
Iridium
1650 Broadway @ 51st Street
New York City
For reservations: (212) 582-2121
www.iridiumjazzclub.com
Previous Engagements: 2005
Frank Fontana at Danny's Skylight Room
Wells Hanley, Music Director
Eivind Opsvik, bass*
Robby Sinclair, drums
Danny's Skylight Room Cabaret
346 West 46th Street (between 8th & 9th Avenues)
New York City
Reservations: 212/265-8133
$20 cover charge
$12 food/drink minimum
* Eivind Opsvik will be performing in Canada on September 28th. For that evening's performance, our bassist will be Curtis Fye.
NOTE:
You may purchase food or drink in the Skylight Room Cabaret from a menu which includes burgers, salads, appetizers, and delicious desserts. Or treat yourself to pre-show dining in the adjacent Danny's Grand Sea Palace Restaurant, where an entreé of $12 or more will satisfy the cabaret minimum. Simply tell your server you're seeing Frank Fontana at 7:00 p.m. in the cabaret after dinner.
On September 30 and October 1, Frank will be appearing in Westfield, Massachusetts (just west of Springfield) at a brand new cabaret space. He'll join a stellar array of New York and Boston performers who are initiating a series called "The Shows At Piccolo's."

Piccolo's Ristorante is a highly regarded Italian restaurant in Westfield, owned and operated by Gianpaolo Sesti. The restaurant sits atop a small treasure -- an intimate performance space that was last used as a movie house. With the space now transformed into a cabaret-style theatre, Sesti and booking manager Bob Plasse have created "The Shows At PIccolo's" to bring the best of cabaret and jazz to the beautiful Berkshire Mountains. Frank is delighted to be a part of the fun.
Frank Fontana with Wells Hanley
singing Natural Jazz
as part of
The Shows At PIccolo's
Friday, September 30, 2005
Saturday, October 1, 2005
8:30 p.m.
Tickets:
$22.00 for theatre seating;
$26.00 for ringside table seating (including Italian hors d'oeuvres table)
The New Cabaret Stage at Piccolo's Ristorante
110 Elm Street
Westfield, Massachusetts
Reservations: 413/ 572-1433
Major credit cards accepted
Natural Jazz -- Frank Fontana Live at Danny's
On Tuesday, June 28 and Wednesday, June 29, 2005, Frank returned to Danny's Skylight Room Cabaret. He performed his
Natural Jazz
set on both nights, a show which prompted one critic to write: "This show is a must for anyone who loves nature, beautiful songs and superb musicianship."
Joined once again by his friend and music director Wells Hanley, along with Eivind Opsvik on bass and Robby Sinclair on drums, Frank presented songs which speak of the natural world and our place in it -- words and music of Djavan, Duke Ellington, Stephen Sondheim, Alan & Marilyn Bergman, Richard Rodney Bennett, and many more.
Both of these performances were recorded for release later this year as Frank's debut CD: Natural Jazz -- Frank Fontana Live at Danny's. We anticipate a CD release in early fall.
If you were in attendance at either the June 28th or June 29th performance, please contact Manhattan Live Performance with the information printed on the coupon you received -- you'll receive a complimentary copy of the CD when it's released.
Rather than visiting my website periodically to look for schedule updates and other new information, you can receive the news as soon as it's available by subscribing to the MLP Newsletter. Published by Manhattan Live Performance, this no-cost e-periodical is issued about once a month or so, and arrives directly in your inbox. It's available with graphics or in a plain text format. Click here to view a sample issue of the newsletter.
To become a subscriber, enter your e-mail address in the space below and hit the "Sign Me Up!" button.